Stability, regularity, and reliability; these words swarm to the meaning of consistency. Consistency is a choice and a very important key factor to losing weight.
Of course, just as everything else, consistency varies. If your consistent with working out but you're momentum is down, causing you to not loose more calories that you consume on a daily basis; then working out is rather irrelevant. Most people have the misconception that as long as you work out, you can eat whatever you want.
Pop! There goes your denial bubble. Loosing more calories than you digest is essential. Hope is still within your grasp, I will give you some recipes: healthy smoothies for weight loss.  Exercise is a necessity, and you should be maintaining both; but in comparison, calorie control is far more essential for losing weight.
I can't stress this enough but the most crucial fact to working out and losing weight is that you need to burn off more calories than you digest. Generally, with most people, exercise actually increases appetites. Exercise is more so an energy deficit.
Another important aspect to weight loss is getting the appropriate amount of sleep.
Motivation
I've noticed that I can't work out at home, I get distracted or just pure lazy. I recommend going to the gym, it is a great source to receive motivation, energy, and to lose calories. As I've mentioned already, its necessary to burn more calories than what you're eating; so, going to the gym to burn calories will definitely fast track you to your goal quicker.
I'm not saying to just do one or the other, if you want effective results then you need to do both. So, find a balance or evenness that suites you; it will be tricky to find it in the beginning but if you keep motivation then you will find it.
I also want to mention that in my experience, the first week you begin working out will be tough, but you need to push through and get past that first week so that you can start seeing results.
This first week is the most important week, because it will determine how serious you are and after completing that first week, it will motivate you to keep going for weeks and weeks to come.
After the first few weeks it will become a routine; as if it comes naturally. That is of course, if you put time in. It will get easier, you'll begin to truly enjoy it and you may even turn to working out as a coping mechanism, I know I sure do.
Johnny wrote an article on intermittent fasting which is another way to lose weight, it's one of our favorite things to do because it's very effective. If you're not familiar, to sum it up you don't eat for sixteen hours, starting from the last time you ate the night before bed, to the next day. So, what I like to do on my fasting days is to make a Jump-Start Smoothie. This smoothie is delicious and only 96 calories.
Jump Start Smoothie:
1 cup of frozen strawberries
½ cup of fresh blueberries
½ cup of orange-tangerine juice blend, chilled
2 teaspoons chopped, peeled fresh ginger
¼ cup of plain low-fat yogurt (I like replacing this with low fat vanilla yogurt) 2 ice cubes
This is one of my favorite low-calorie smoothie. This recipe is from "Smoothies by HearstBooks" and it is a healthy and simple recipe. You can find this by going to Amazon and type in the book name.
If you are looking for some great smoothies to help you with weight loss, check out the link below:
I know many women and men who have tried this diet out and their results were amazing! They reported it being easy to follow and a delicious way to lose weight.
I haven't tried it yet, but if you are looking for an easy way to lose weight and you don't have a lot of time on your hands, then this option might be the perfect choice for you!
If money is an issue, try this alternative. It only costs $7 and it gives you over 275 different smoothie recipes!
Progression is another important tip to take hold of for losing weight. One of my favorite ways to burn calories is to run. Its fast, its easy and its addictive. You must make sure that you don't progress to quickly though; because that could lead to injury.
I learned that the hard way and ended up with runners' knee for a few weeks. I run for an hour every day except for my two rest days. When I started running, I noticed that my body got used to running for an hour at the same speed because I would only sweat for the first thirty minutes and for the second half I wouldn't sweat at all! Which means that the second half of my running was pointless!
Once I made my speed higher I began sweating for my whole run again. Our bodies have tolerances, even with working out. Progression is the tool to tolerances.
I am also going to give you a dinner recipe which is from a different book called "The Healthy Gut by Lindsey Boyers". This is also one of my favorite meals. The veggie stir-fry; it serves four people and has 113 calories.
The Veggie Stir-fry:
2 tablespoons olive oil or coconut oil
3 medium cloves of garlic minced
1 small bunch green onions thinly sliced
1 tablespoon finely sliced ginger root
4 cups of mixed vegetables: sliced mushrooms, diced carrots, broccoli, florets, and snow peas (or mixed seasonal vegetables of choice)
½ cup filtered water
3 tablespoons of coconut aminos ( or PF Changs Sesame sauce.)
Here is how to cook this amazing dish:
Heat the oil in a wok or large sauté pan on medium-high heat. Add garlic, green onions, and ginger, sauté until fragrant, about 30 seconds.
Stir in vegetables, water and coconut aminos.
Let simmer for about 5 minutes or until vegetables are crisp-tender, stirring lightly.
I hope you truly enjoy these two recipes and if you're looking for more like this, then check out these FAST FAT BURNING MEALS.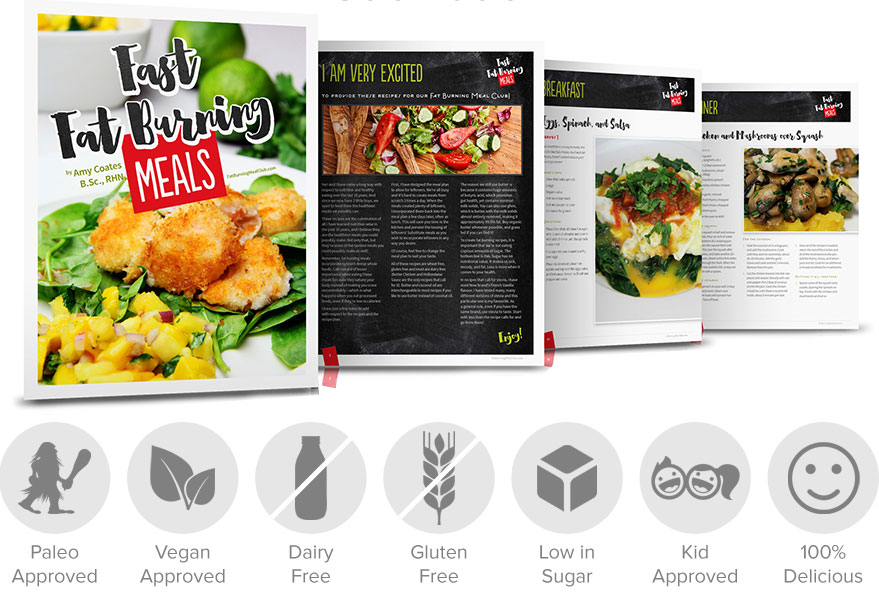 It includes so many different types of recipes that are low in carbs, low in sugar, dairy free, gluten free, and most importantly, delicious!
I hope that with these recipes, it will help you realize that it's possible to eat scrumptious meals/smoothies and still maintain a healthy diet. It comes down to whether or not you fully want to commit to making a change or not. An important fact to acknowledge also is that our bodies are our vessels and we only get one.
Take care of your souls' home, its important. Be healthy, eat good, exercise, control your calories, progress, live life, grow, and hike some mountains!
Enjoy your life because you only get one, so make sure you can enjoy it to your fullest; the best way to do that is to be healthy!
Remember to try this smoothie recipe and veggie stir fry dish and let me know what you think! Also, if your looking for more healthy smoothie recipes with a complete diet plan, Check out :
Comment below for any questions or concerns that I may be able to answer for you!
Thank you and have an effective and healthy day!
– Destiny Plusch